4 Ways Scammers Are Using COVID-19 To Steal Your Data
|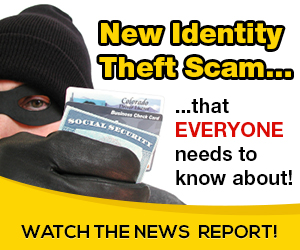 ---
COVID-19 has disrupted schools, businesses and lives everywhere, bringing many things to a screeching halt. Unfortunately, scams increased significantly since the start of the pandemic, leading to schemes as novel as the virus itself. These scams range from fake unemployment insurance texts to fake vaccine cards, and they target victims of all ages and locations. Fortunately, there are things you can do to protect yourself.
---
What Are Scammers Trying To Gain?
The most direct answer to this question is money. There are many ways they can make money that don't include your bank account information. For example, scammers are able to sell your email, password and phone number. If you use the same email address and password for multiple accounts, you are at a higher risk for identity theft. So even if scammers aren't directly taking money from you, they are making a profit off of your personal information. This is why it's crucial to protect that information and only give it to reliable sources.
Digital security solutions like Identity Guard protect and monitor your personal, financial and tech information without you having to lift a finger. It's like a safety net against scammers and hackers that gives you the power to stop them in their tracks.
---
What Are COVID-19 Scams?
COVID-19 scams occur when scammers attempt to steal personal information while posing as a representative for COVID-19 testing, vaccinations and scheduling. Here are some common scams and how you can avoid them:
Vaccine Scams
What it is: Scammers will pose as health officials and create fake websites and fake ads to obtain credit card, banking and Social Security number (SSN) information, which they will use to steal your identity. They will charge for fake vaccines, offer a way to pay for early access to a vaccine, or offer a way to pay for a front-line spot for a vaccine. Scammers will also send robocalls, phishing texts or phishing emails to gain this information.
How to prevent: Do not provide your SSN or payment information, especially if it was requested through email, phone or text. This information is not required when signing up for a COVID-19 test or vaccination from a legitimate source. Also, vaccines are free, and there are no fees or copays, so any offer requiring money is most likely a scam. There is no way to pay to receive the vaccine early. Any offers to pay for a vaccine are fake and should be reported to the Federal Trade Commission (FTC).
If you believe that your financial information has been compromised, you could sign up for an identity protection solution, which will monitor transactions using your banking information and scan the dark web for any leaks of your information.
Fake Post-Vaccine Surveys
What it is: Text messages or emails promising a cash reward or prize for completing a fake survey about the COVID-19 vaccine. Participants are asked to pay shipping and handling for their chosen prize, and they are directed to enter in their credit card information and shipping address. They never receive the prize and are instead exposing their personal information to scammers.
How to prevent: Do not click on any links in text messages or emails claiming to be a post-vaccine survey. Do not give your credit card information or address to any untrusted sources. Carefully review the emails and text messages to look for misspelled words or company names. Scammers will often try to impersonate government agencies and companies, but remember that the real agencies and companies will never ask for your username or password.
Unemployment Insurance
What it is: By impersonating government departments in charge of the unemployment insurance program, scammers are seeking to gain people's personal information through fake websites and Facebook pages. They encourage people to fill out fake forms requiring their personal information that is then sold on the dark web. This scam is targeting persons who recently applied for unemployment insurance, most likely due to the large amount of layoffs resulting from the COVID-19 pandemic.
How to prevent: Only fill out forms through the official department website, not through any links supplied on Facebook or through email. Take the time to research the sites you are using and thoroughly check the name in the URL for any misspelled words or special characters. Consider an identity theft solution that monitors usage of your SSN and other personal data.
Vaccine Card Photos On Social Media
What it is: After receiving the second shot, some newly vaccinated individuals are excitedly posting photos of their vaccination passports to their social media. There is crucial personal information on those cards, and if not properly censored, scammers can take that information right from the post and use it to steal identities.
How to prevent: Think twice before you post photos showing your personal information, especially your medical information. Once it's on the web, it stays there forever. Add blurs to cover up important information and make your profile private.
---
How Can You Prepare Yourself?
Unlike COVID-19, there is no vaccine to prevent scams or identity theft from happening to you. The best way to protect yourself and your family is through preventive measures such as remaining diligent about whom you share your personal information and maintaining strong, unique passwords for your online accounts. Lastly, we recommend an identity protection solution such as Identity Guard, which is currently available for 33% off for Patch readers.
---
Source: on 2021-04-26 15:41:15

Read More At Source Site