How to Keep Your Identity Safe While Traveling
|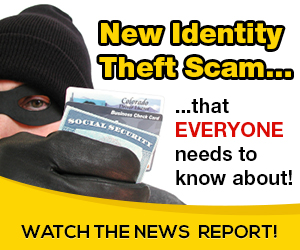 The summer season of sunscreen and sunshine has arrived after the cold winter months, which means you may be taking some time to travel. While we've already explained how you can carry out good security practices as you plan your trip, it's time to take some precautionary measures to make sure the experience of a stolen wallet, hacked laptop or some other something worse doesn't occur and negate the fun from your travels. Whether you're traveling overseas or within your home state, here are some tips that can help you keep your identity safe while traveling.
Before you leave home
Though it may be surprising, security preparations for your voyage should begin when you're still at home. As you lug out your suitcase from your closet's depths and get your affairs in order before the big trip, here are some actions you can take to allow yourself to stay safe while traveling.
Let your bank and credit card issuers know you're traveling
First, you'll want to contact your credit card issuers, your credit union and your bank. It's important to let them know about your travel plans and details – specifically, where you're going and when. While doing so may seem like a hassle, not doing so could potentially give rise to even more hassle. That's because providing a heads-up could reduce the likelihood of your accounts being put on hold for suspicious activities after you make a purchase during your travels. Furthermore, notifying them can act as a good safety measure. For example, if someone makes unauthorized charges in your hometown while you're abroad, these unauthorized charges could potentially be caught more quickly.
How to pack
Knowing what to pack and what to leave home can also help your identity stay safe while traveling. Here are some pointers to keep in mind as you decide what's going into your suitcase and what isn't.
When you're at the airport and on the airplane
Be careful when using Wi-Fi
It happens all too often — you find yourself needing to access the Internet at the airport while you're waiting to board your flight, so you quickly scan the list of available Wi-Fi networks you can connect to through your phone, picking one that sounds like the airport's name and connecting to the free Wi-Fi as soon as possible.
While the promise of accessing convenient Wi-Fi at no monetary cost can be enticing, there are some points to consider before connecting to a network at the airport or airplane – or even at your hotel. For one, airport and airplane Wi-Fi networks are public, and public Wi-Fi and free hotspots frequently aren't safe to use, which is something we've covered many times before. Although you may think an eavesdropping event is pretty rare, it's more common than you think. In fact, a USA Today columnist got hacked mid-air while he was using American Airlines' Gogo in-flight Internet connection and wrote about how humbling it was. These types of Wi-Fi networks often lack the protective barriers that make it more difficult for hackers to monitor and manipulate your web activities, allowing them to spy on you while you browse the Internet, check your bank accounts online, talk to your partner and more. Some hackers may even set up a hotspot or Wi-Fi network that uses the name of the network you intend to use, so if you access these networks from the airport, the airplane, your hotel room or anywhere else, the hacker could view all your activities and potentially steal your personal information. As such, for all the reasons just mentioned, make sure you're exercising great caution when you're connecting to Wi-Fi. To beef up your security and to stay safe while traveling, consider undertaking some security steps, such as using a VPN or turning off Wi-Fi and Bluetooth when you're not using them.
Be careful when posting on social media
It can be tempting to post travel updates on your social media profiles when you're trying to kill time at the airport or on the airplane, but it's wise to think before you post. The reason why? If you provide indications that you're going away, to certain people, they may signal that it's a good time to rob your house. To better prevent break-ins while you're gone, and to keep your valuables and identity safe while traveling, you'll want to adjust your privacy settings to secure your social media profiles. Make sure your posts are being shared with people that you personally know, as opposed to "online friends," consider disabling location-identifying settings and avoid sharing travel details (e.g., your agenda or travel dates) online.
When you get to your hotel or housing
How to store your belongings
During your trip, you'll want to be cautious when it comes to how you're storing your belongings. As mentioned before, it's best to leave certain items, such as your social security card and valuables, back at home if you can. But for those important items that you can't leave behind, you may want to consider storing them in a secured safe in your hotel room if there is one. You can also bring a luggage lock and lock up your valuables in your hotel room when you're out and about. If it's something truly valuable to you, like a necklace from your great aunt, it might be best to wear the item or store it on your person to be safe. As for the cash and items that you are planning on bringing around with you, besides keeping a close eye on them, think about carrying them in a money belt or something that's more discreet and difficult to steal from than your purse or wallet.
When you're out and about
Take some precautions when you need to use an ATM
If you find that you need to withdraw money from an ATM while traveling, there are several steps you can take to better protect yourself during the withdrawal process. Before inserting your card into the ATM, check the machine for signs of anything suspicious. That's because card skimming and shimming, the terms for methods used by scammers to gather your card's payment information through card-reading terminals inserted inconspicuously into the ATM, are unwanted happenings that you'll want to avoid. To better protect yourself from being scammed in this manner, make sure to inspect your surroundings and the machine itself. If anything looks suspicious, such as duplicate security cameras or devices inserted into the card readers, don't use the ATM.
If you've determined that the ATM is safe to use, consider blocking the view of the keyboard and screen as you type in your PIN number and withdrawal amount. By doing so, you can better protect yourself from those who may be seeking to obtain your payment information to commit fraud.
When you return home
Confirm everything you packed made it home
After you return home from your trip, you'll want to make sure you brought everything back with you. As you unpack, mark off the items you are removing from your suitcase or bag to be sure that all of your important valuables and documents returned home with you. If a document or credit card is missing, contact the issuer (using the list you took on your travels) and let them know it's lost.
Monitor your accounts
Fraud can happen at any time, even when you're back home. As such, you'll want to keep an eye on your bank accounts and credit cards to make sure no suspicious transactions appear. If you do spot a potentially fraudulent transaction, report it to your bank or credit card issuer immediately.
Now that you know more about what you can do to keep your identity safe while traveling, visit our identity theft protection blog to learn more ways you can protect your identity.
87640
About Author
Carissa Ratanaphanyarat
Carissa Ratanaphanyarat is a NextAdvisor.com writer who has covered website building, credit cards, travel websites and lifestyle topics. Carissa received an M.S. in Communication from Northwestern University and a B.A. in Writing Seminars from Johns Hopkins University. She has also explored screenwriting at Chapman University's film school. Follow her on Twitter @CarissaAdvisor.


Source: on 2018-06-19 17:56:15

Read More At Source Site