Westfield PD: Fraudsters Afoot. Here's How to Protect Yourself
|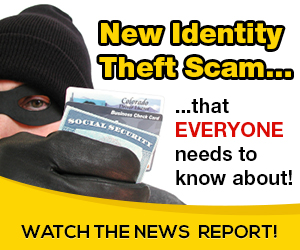 WESTFIELD, NJ — A suspect obtained the personal information of a Central Avenue resident and submitted a fraudulent claim to the state Labor Department Dec. 16.
On Dec. 2, a Westfield resident told police that someone used their personal information to obtain a bank loan in their name.
That same week, another resident reported that someone accessed her credit card information and made a $709 purchase on an HP website.
"Don't for one minute think that we haven't seen every one of these scams," said Police Chief Christopher Battiloro in a recent virtual presentation given to seniors on preventing fraud. "They happen every day. Our residents fall victim every single day. This is a very common occurrence, so don't think that it won't happen to you."
Detective Dennis DaSilva described for members of Lifelong Westfield, a local seniors' group, steps they could take to reduce the likelihood of their identities being stolen. The presentation comes during the holiday season — a time when scams typically rise in frequency.
"If you think you're being scammed, you probably are," DaSilva said. "So before … you release any personal information, before you go out and buy Green Dot money cards and transfer money, call us. Do not think that you are bothering us. We are here to serve you. We are here to protect you."
The detective presented 10 key points on the topic, ranging from why consumers should get their credit report annually to what to how best to protect your personal information while shopping.
1. What is identity theft?
Identity theft is when someone uses your personal information — such as name, address, credit card information, bank account numbers, social security numbers or medical insurance information — without your permission.
2. What can thieves do with your information?
Thieves can buy products and services using your personal information, steal your tax refunds, place liens against your home, get medical care in your name and open up public utility accounts in your name.
3. Why should you care if someone steals your identity?
You will be responsible for what the thief does using your personal information. Even if you do not know about the bills, identity theft can hurt your credit score.
4. How do you find out if someone is stealing your identity?
Read your banking and credit card statements and if you see charges that you didn't incur, call the bank or credit card company.

If you're not getting certain bills, call the company you're not getting the bills from.

Get your credit report annually by visiting  www.annualcreditreport.com or calling 1-877-322-8228
5. Now you have your credit report. What's the next step?
Check to see if the credit report has your correct information. Do you recognize all the accounts listed?
6. How can you protect yourself against identity theft at home?
Keep financial records, social security cards and health insurance information in a safe place.

Shred papers with personal information. Take mail out of your mailbox every day.
7. How can you protect yourself against identity theft when you shop?
When you shop in a store watch your wallet. Be careful with your credit and debit cards and do not provide anyone your PIN numbers.

Be creative with your passwords when shopping online and do not use ones that might be obvious.

Do not respond to emails or other messages that ask for personal information.

Do not put personal information on a computer in a public setting such as a library or coffee shop.

When purchasing from websites verify the website is secure by looking for the 's' at the end of the "http" portion of the url and look for a lock icon on the page.
8. What do you do if someone steals your identity?
Place a fraud alert on your credit report. Order copies of your credit reports and if you see mistakes on your credit reports, call the companies with the affected accounts. Also, report the fraud to your local police department.
9. What are the common types of scams?
Phone scams in which the fraudster offers a free trial to get your personal information, promises you a travel package or credit loan are among the common types of scams. Other scammers may say that you've won money in a foreign lottery.
Residents are encouraged to join the National Do Not Call List by visiting donotcall.gov or calling 1-888-382-1222.
10. What are some signs of a charity scam?
The scammer refuses to provide information about their own identity and how the money you donate would be used. They ask for donations in cash or ask you to wire money. They guarantee sweepstake savings in exchange for a contribution.
Reaching the Westfield Police
Westfield Police advise residents to call the department if they feel they are being scammed. The department's non-emergency number is 908-789-4000, ext. 0. If someone is at your door attempting a scam, residents are asked to call 911.
Email Matt Kadosh at [email protected] | Twitter: @MattKadosh
Read More Westfield NJ Local News
MORE: Snowfall, COVID, Mail Volume Surge Create Perfect Storm for Delivery Delays
MORE: What You Need to Know About Westfield's 2021 Recycling Changes
MORE: The Winners of Westfield's 2020 Holiday Lights Contest Are …


Source: on 2020-12-23 15:03:45

Read More At Source Site