Which is better? Fraud alert vs. credit freeze
|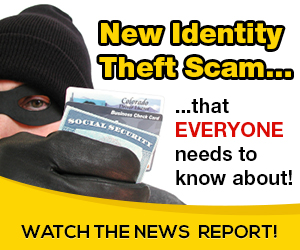 A fraud alert on your credit report requires a creditor to verify your identity before processing credit applications, whereas a credit freeze actually blocks access to your credit report altogether.
Each of these methods is designed to prevent identity theft and to keep crooks from opening loans or credit accounts in your name. So which method is better?
A fraud alert is intended for victims of credit fraud or identity theft. The extended fraud alert will stay on your credit report for seven years but you can remove it sooner.
To add a fraud alert to your account you must provide a copy of a police report or other valid identity theft report submitted to law enforcement.
The alert will let businesses know you're a victim of identity fraud and asks them to contact you to confirm your identity before granting credit in your name. Businesses could include credit issuers, landlords, potential employers, car insurance companies or car rental agencies.
Also, active-duty service members can add an alert to their account as well, but proof of military orders must be submitted along with a request for this type of alert.
It's free to set up a fraud alert at all three national credit reporting agencies, Experian, TransUnion and Equifax.
On the other hand, the credit freeze protects your credit file because it prohibits potential new creditors (and others) from reviewing your credit files or obtaining your credit scores unless you lift the freeze. There's no need to put a credit freeze and a fraud alert in place at the same time.
To freeze your credit, you must submit a request to each of the three credit bureaus. You can request a freeze either online or by phone. You'll be asked to create a PIN code or password to use when unfreezing your credit file. If you lose your PIN, you'll be required to supply proof of identity, so keep your PIN in a safe place.
You will need to unfreeze your credit file before applying for credit or services that require access to your credit history, such as opening new accounts or applying for an apartment.
So which is better? If you're going to apply for credit and need access to your credit file, it's probably best to file a temporary fraud alert, which stays on your account for one year and does not require a police report. But if you're nearing retirement and don't anticipate needing any new credit cards or loans, credit freezes can provide peace of mind so no one can access your credit file or open accounts in your name.
• • •
Phony PayPal charges
Readers continue to get phony invoices from authentic companies stating their PayPal account has been charged for something that they supposedly ordered.
An Athol reader received notice last week for a charge of $889.68 from ROE Armory. The invoice was generic and offered no description of the item ordered, only the price and company name.
Even though a customer service number of 866-258-0073 was provided, the reader called ROE Armory, which is a legitimate business in Glendale, Ariz., to find out about the purchase. Turns out the company knew nothing about the order and did not have any outstanding orders on their books for this customer.
In addition, the customer service number doesn't appear to be tied to either PayPal or the business, which means if you call that number to report an unauthorized charge, you are likely speaking with the scammer. Of course, the scammer will be more than happy to take down the personal information that you provide to dispute this phony charge.
There was also an odd notation at the end of the order invoice which stated, "The subscription will automatically be renewed until you cancel it no later than 24 hours before the expiration by calling us." The crooks probably cut and pasted this language from other scams they were perpetrating on other victims that did include a possible subscription.
As always, pay attention to details. If you contact the company directly, don't use the number provided. Instead, look up the number like this reader did to find out the real status.
• • •
National Publishers Exchange mailers
A mailer from National Publishers Exchange informs local readers of a life-changing opportunity. This company is a clearinghouse for magazine subscriptions sold by hundreds of independent sellers across the country, similar to Publishers Clearing House.
The advertisement says that you have won $10,000 per week for 52 weeks; all you have to do is call the 800 number and provide the ID from your mailer and confirm your address along with other information. The notification is baiting you to call the number provided and give up your personal information.
These types of advertisements fall into the phantom fixation category because you're offered a prize or reward so compelling that you can think of nothing you want more. But don't let your fixation get the better of you. Exercise good judgment and ignore these types of mailers.
• • •
Remember: I'm on your side.
• • •
If you have encountered a consumer issue that you have questions about or think our readers should know about, please send me an email at [email protected] or call me at 208-274-4458. As The CDA Press Consumer Gal, I'm here to help. I'm a copywriter working with businesses on marketing strategy, a columnist, a veterans advocate and a consumer advocate living in Coeur d'Alene.
Source: on 2021-06-10 04:03:45

Read More At Source Site